Jobs In Education
Careers In Special Education
The demand for good special education teachers, school psychologist, speech language pathologist, Board Certified Behavior Analysts and consultants is growing. There are many different types of jobs available for someone with a special education degree ranging from classroom teaching to consulting and counseling. Those with special education degrees may work with students with disabilities or with exceptional learners. It takes the fortitude as well as the right attitude and personality to succeed in special education. One of the best things about a degree in special education is that you can work in so many different environments and venues.
Jobs In Special Education
Many with special education degrees teach or assist in the classroom. It is also possible to stay within an educational setting but focus on specific disabilities. Some specialize in hearing issues, visual impairment, counseling or speech-language pathology. It is also possible to concentrate in specialized treatments or programs such as therapeutic recreation or art therapy. Many schools will hire a person with a special education degree to work with students with different requirements on a rotating basis.
There are also special education careers outside the classroom. Private tutoring is very popular and these jobs can include all subjects, all levels, and all standardized tests. Many parents employ a tutor to help their child with study habits, organization and completing long-term assignments. This is a good opportunity to find jobs in education.
Some school districts will employ people with a specialization in learning disabilities as consultants. These specialists plan instructional programs and diagnose individual learning difficulties. Some perform as case managers for students with disabilities or learning issues.
Another popular alternative job for those with a special education degree is a reading specialist. School districts will often employ these individuals to extend classroom instruction or to work with students in small groups or one-on-one. Many enjoy this type of position since it is still teaching. We are seeing many careers in education.
Many who have an undergraduate degree in special education will often become a school guidance counselor. They must first complete a master's in counseling. They serve at all levels within the educational system and help students with socialization, character education, and preparing for college or a vocational school.
Special education advocates work closely with students and parents to help ensure the student has the best educational program available. They are the voice for both the student and the parents within the school system. As school systems increasingly test and classify students, parents often need assistance to navigate the system. A special education advocate can help guide them through the process. Contact us if you are looking for jobs in education.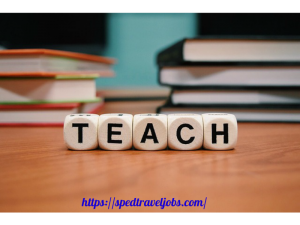 Jobs In Special Education | Careers In Special Education | Jobs in Education | Careers in Education